Music from local bands
While you're enjoying your meal or browsing the stalls, you will be entertained by music from local bands.
We are very pleased to announce the first performers for this year's event:
Jewels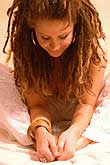 Inspired by the sun, the sound of rolling waves, the wild beauty of the ocean and its beach, life, love and the struggle for humanity, Jewels' songs take you on journey of spirit and soul into the deepest depths of her heart. Melting reggae with the sound of her soul, her distinctive voice will carry you away.
Performing at the Global Cafe
http://www.jewelsmusic.com
Jonny Owens
Lea Lyle
Note: the order above does not reflect the running order on the day.
If you would be interested in performing at this year's Town Meal, please contact us.