Music from local bands
While you're enjoying your meal or browsing the stalls, you will be entertained by music from local bands.
We are very pleased to announce the performers for this year's event:
The Newtowners/Woodchucks
A Reading UK local acoustic string band playing dance tunes and songs of American Old Time (pre-Bluegrass/early county music). For almost 20 years they've established a legacy for doing community events and local Art Centres as well as regular pub gigs. They also host a popular monthly musical jam at The Global Cafe. With both Colm (fiddle) & Cathy (banjo) generally in the lead, and guitar and double bass in support, the emphasis is always on a "downhome feel" being inclusive for dancers and children to join in.
http://www.thenewtowners.co.uk/
Jewels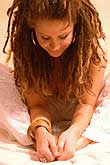 Inspired by the sun, the sound of rolling waves, the wild beauty of the ocean and its beach, life, love and the struggle for humanity, Jewels' songs take you on journey of spirit and soul into the deepest depths of her heart. Melting reggae with the sound of her soul, her distinctive voice will carry you away.
Performing at the Global Cafe
http://www.jewelsmusic.com
Reading College Presents...
... up and coming talent Samantha Downer and Louise Gwilliam.
Reading Ukulele Group
RUG are a group of up to 20 ukulele players, a bass player and percussionist playing at festivals and events in Berkshire and the surrounding area. We play an energetic and diverse mix of music from the late 1920's to the present day.
http://www.readingukulelegroup.co.uk/
If you would be interested in performing at a future Town Meal, please contact us.