Music from local bands
While you're enjoying your meal or browsing the stalls, you will be entertained by music from local bands.
We are very pleased to announce the performers for this year's event: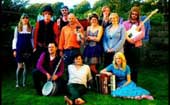 This rag-tag band are sure to geet yuh feet movin. Currently they have Richard on gee-taugh, Ian diddlin' on the mandolin and harmonica, Adrian pickin' banjo, Sarah and Liz whooping and a hollerin', Randy bangin' and stompin', Brandy pushin' accordian and Crystal strummin' ukelele and washboard, and Dave playin' the slide-guitar. Whew!
https://www.facebook.com/Dolly-And-The-Clothespegs-188627911191467

Inspired by the sun, the sound of rolling waves, the wild beauty of the ocean and its beach, life, love and the struggle for humanity, Jewels' songs take you on journey of spirit and soul into the deepest depths of her heart. Melting reggae with the sound of her soul, her distinctive voice will carry you away.
Performing at the Global Cafe
http://www.jewelsmusic.com
RUG are a group of up to 20 ukulele players, a bass player and percussionist playing at festivals and events in Berkshire and the surrounding area. We play an energetic and diverse mix of music from the late 1920s to the present day.
http://www.readingukulelegroup.co.uk/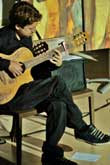 After playing guitar for 15 years in a plethora of metal, pop, funk and jazz outfits including Reading's "Junkyard Scientists", 3 years at London's LCCM Academy and performing around the streets of north Spain, Jonny Owens has fused a mixture of classical, jazz and flamenco into an acoustic performance of compositions and arrangements of original material and music and inspiration from Paco Pena, Moraito Chico, Paco de Lucia, Fransisco Tárrega, Isaac Albeniz, Hans Zimmer, Beethoven, Bach, Freddie Hubbard, George Benson and Miles Davis to name a few.
jonnyowensacoustic.co.uk
Check the programme (PDF) for any changes.
If you would be interested in performing at a future Town Meal, please contact us.