Music from local bands
While you're enjoying your meal or browsing the stalls, you will be entertained by music from local bands.
We are very pleased to announce the performers for this year's event:
Bandstand
Station Entrance
I'm a songwriter, singer and acoustic guitar player from Reading. My songs have roots in rock and blues with a bit of a progressive twist. I like writing about myths and moods and also have a passion for climate change, which sometime comes out in the lyrics.
https://static.chrisbeales.net/music/index.php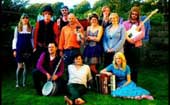 Hailin' from the Kennet Delta, we are what you might call a Riverbilly band. Our repertoire dips into the archive of Alan Lomax, covers, and some of our own songs too.Get your toe tapping shoes on and enjoy the fun!
https://www.facebook.com/dollyandtheclothespegs/
A local ukelele band, performing all genres.
This group of musical friends play Old-Time music, from the Appalachian Region of America. It's the live music of family and friends who get together and play while sitting on the back porch, enjoying each others company and a few snacks. There's no playlist, someone suggests a tune, and everyone else joins in to the best of their ability. Fun guaranteed. Yee Haw!
https://www.facebook.com/groups/pickinlunchtime/
Reading band Tonto Popadopulous provide a fun foot-tapping session with songs you can sing along too, perhaps vaguely recall or one of their original tunes. Guaranteed to leave you with ear worms.
https://simonwindischmusic.wixsite.com/tontopopadpoulos/
Check the programme (PDF) for any changes.
If you would be interested in performing at a future Town Meal, please contact us.