Music from local bands
While you're enjoying your meal or browsing the stalls, you will be entertained by music from local bands.
We are very pleased to announce the performers for this year's event:
Bandstand
Station Entrance
Popular, country and folk music - playing cajon, ukuleles, mandolin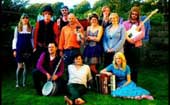 Hailin' from the Kennet Delta, we are what you might call a Riverbilly band. Our repertoire dips into the archive of Alan Lomax, covers, and some of our own songs too.Get your toe tapping shoes on and enjoy the fun!
https://www.facebook.com/dollyandtheclothespegs/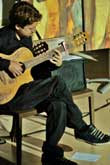 After playing guitar for 15 years in a plethora of metal, pop, funk and jazz outfits including Reading's "Junkyard Scientists", 3 years at London's LCCM Academy and performing around the streets of north Spain, Jonny Owens has fused a mixture of classical, jazz and flamenco into an acoustic performance of compositions and arrangements of original material and music and inspiration from Paco Pena, Moraito Chico, Paco de Lucia, Fransisco Tárrega, Isaac Albeniz, Hans Zimmer, Beethoven, Bach, Freddie Hubbard, George Benson and Miles Davis to name a few.
jonnyowensacoustic.co.uk
RUG is a legendary ginger tom cat, who by mastery of forces that we do not understand and which should never have been meddled with, succeeded in casting a spell on a group of random men, women, and block of wood in Reading, turning them into muscial puppet slaves, doomed to play eternally and ever more dementedly, never to stop their terrifying yet beautiful whirlwind of music from the twentieth and twenty-first century until one day the ice of the human heart can be finally thawed and the spell broken.
http://www.readingukulelegroup.co.uk/
Trio playing unusual music on the djembe drums, guitar and various flutes. The music is very spontaneous and improvised, with a 'world music', afro-indo-celtic feel.

The Newtowners are a group of musical friends who play Old-Time music, from the Appalachian Region of America. It's the live music of family and friends who get together and play while sitting on the back porch, enjoying each others company and a few snacks. There's no playlist, someone suggests a tune, and everyone else joins in to the best of their ability. Fun guaranteed. Yee Haw!
http://www.thenewtowners.co.uk/
If you would be interested in performing at a future Town Meal, please contact us.