Community Groups
We are currently looking for community groups to attend this year's Town Meal.
We are seeking stall holders that have a focus on local food, growing, sustainability and community.
There are three stall areas: children's / family activities, community stalls and traders. As well as established traders, we welcome one-off and cottage industry food stalls. While we must ensure you meet minimum requirements, we will try to work with you to ensure you can participate. Please get in touch if you are interested in having a stall but aren't sure whether you qualify.
Lots of different community groups will be setting out their stalls at the Reading Town Meal. Find out about them here and get a sneak preview of what they will be offering on the day - from freshly pressed apple juice to crafting with waste!
Please get in touch if you would be interested in having a stall at this year's town meal.
Abundance Apple Pressing and Reading Food Growing Network
Reading Food Growing Network (RFGN) is a Reading-wide network of gardeners and allotment holders sharing produce and skills. They are teaming up with Transition Town Reading's Abundance project and their lovely apple press to make some delicious juice for the Town Meal and will also have their Seed Swap boxes available.
http://www.readingfoodgrowingnetwork.org.uk
http://readingabundance.weebly.com
Berkshire Greenpeace

Uses campaigning and action to protect the environment nationally and globally. We will be engaging the public with Greenpeace's main campaigns.
https://greenwire.greenpeace.org/uk/en-gb/groups/berkshire-greenpeace
Compassion in World Farming

We lead a growing worldwide movement of people concerned about how factory farming mistreats animals, wastes precious resources and utterly fails to meet the needs of the planet's inhabitants. We are a campaigning organisation. We encourage people to buy and eat locally-produced, free-range and organic meat and dairy rather than factory-farmed. We are also against over-use of antibiotics and hormones in farming and opposed to live exports. We encourage people to eat smaller amounts of good-quality meat from local farms, rather than cheap, meat from dubious sources.
http://www.ciwf.org.uk
Global Justice Reading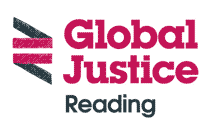 Global Justice Now works in solidarity with activists around the world to tackle the causes of poverty. It researches and promotes positive alternatives which put the rights of poor communities before the interests of big business. Promote Food Sovereignty. Promote swopping seeds, cuttings, surplus plants etc in order to point out the risks of placing our faith in a few large seed corporations to supply our seeds.
http://groups.globaljustice.org.uk/reading
Reading & District Beekeepers Association

Reading Beekeepers (RBKA) is a friendly group of beekeepers all interested in the promotion and preservation of the Honey Bee. They believe in the practice of good beekeeping and will be selling local beekeepers' honey on the day.
http://www.rbka.org.uk
Reading College

Sponsors of the Town Meal and chef extraordinaires, Reading College have a stall showing the various exciting projects they have for the new academic year.
http://www.reading-college.ac.uk/
Reading Friends Of The Earth
We are a group of environmentally minded people who enjoy living in an ecofriendly manner and we try to help other interested people to do the same. We coordinate campaigns on a local level in order to help improve local policy and to do our part for national campaigns. Our actions range from holding fun public events with games and displays to holding or participating in meetings in order to help ourselves or others become better informed about key issues.
http://www.foe.co.uk/groups/reading