Community Groups
We are currently looking for community groups to attend this year's Town Meal.
We are seeking stall holders that have a focus on local food, growing, sustainability and community. We hope that all the community groups will present an activity for people to try.
There are three stall areas: children's / family activities, community stalls and traders.
Abundance Apple Pressing and Reading Food Growing Network
Reading Food Growing Network (RFGN) is a Reading-wide network of gardeners and allotment holders sharing produce and skills. They are teaming up with Transition Town Reading's Abundance project and their lovely apple press to make some delicious juice for the Town Meal and will also have their Seed Swap boxes available.
http://www.readingfoodgrowingnetwork.org.uk
http://readingabundance.weebly.com
Berkshire, Buckinghamshire and Oxfordshire Wildlife Trust

Information display promoting the work of the Wildlife Trust, including the reserves we care for, local events we run and ways people can become more involved by volunteering or become a member. Come and try our Nature Challenge, a nature treasure hunt.
http://www.bbowt.org.uk
Berkshire Greenpeace

Uses campaigning and action to protect the environment nationally and globally. We will be engaging the public with Greenpeace's main campaigns.
https://greenwire.greenpeace.org/uk/en-gb/groups/berkshire-greenpeace
Compassion in World Farming

We lead a growing worldwide movement of people concerned about how factory farming mistreats animals, wastes precious resources and utterly fails to meet the needs of the planet's inhabitants. We are a campaigning organisation. We encourage people to buy and eat locally-produced, free-range and organic meat and dairy rather than factory-farmed. We are also against over-use of antibiotics and hormones in farming and opposed to live exports. We encourage people to eat smaller amounts of good-quality meat from local farms, rather than cheap, meat from dubious sources.
http://www.ciwf.org.uk
Food4families
A programme developing community based food-growing projects where people across Reading can learn how to grown their own food together with support from our team of garden tutors.
http://www.food4families.org.uk
Global Justice Reading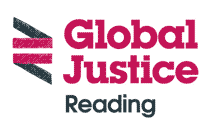 Global Justice Now works in solidarity with activists around the world to tackle the causes of poverty. It researches and promotes positive alternatives which put the rights of poor communities before the interests of big business. Promote Food Sovereignty. Promote swopping seeds, cuttings, surplus plants etc in order to point out the risks of placing our faith in a few large seed corporations to supply our seeds.
http://groups.globaljustice.org.uk/reading
Launchpad
Launchpad is a charity that helps some of Reading's most vulnerable and disadvantaged people to turn their lives around and fulfil their potential. Come and talk to us about how we're helping to prevent homelessness across the Reading community, and how you might be able to get involved!
http://www.launchpadreading.org.uk/
Reading & District Beekeepers Association

Reading Beekeepers (RBKA) is a friendly group of beekeepers all interested in the promotion and preservation of the Honey Bee. They believe in the practice of good beekeeping and will be selling local beekeepers' honey on the day.
http://www.rbka.org.uk
Reading City of Sanctuary
Reading Friends Of The Earth
We are a group of environmentally minded people who enjoy living in an ecofriendly manner and we try to help other interested people to do the same. We coordinate campaigns on a local level in order to help improve local policy and to do our part for national campaigns. Our actions range from holding fun public events with games and displays to holding or participating in meetings in order to help ourselves or others become better informed about key issues.
http://www.foe.co.uk/groups/reading
Reading LETS

LETS stands for Local Exchange Trading Scheme. It's a scheme that allows local people to exchange goods and services with one another without using money. Our currency is called Readies: As a rough guide, 10 Readies is equivalent to one hour's work. Members trade by mutual agreement. A rate in Readies is agreed together with any cash payment to cover materials. The seller then accesses their online account and records the trade when completed. This way you are free to trade with anyone and don't need to return a service to the same person.
http://www.readinglets.btck.co.uk
Reading Museum
Sadaka
Sadaka is a non-profit charity for the homeless in Reading, supported by volunteers from a diversity of faiths and backgrounds, which provides a weekly food kitchen at Fairview Community Centre. At our stall we will sell homemade cakes and snacks and there will also be a childrens lucky dip, alongside donation boxes and information about the work Sadaka does.
https://www.mysadaka.co.uk/
University of Reading Zooarchaeologist
Please get in touch if you would be interested in having a stall at this year's town meal.