Reading Town Meal
There is no meal planned for 2022
After an online meal in 2020 and a successful return to the Forbury in 2021, we've taken a rest in 2022.
We'd love to be back in 2023, if you'd like to help make this happen, please get in touch.
What is Reading Town Meal
Reading Town Meal is a truly community-powered event. First held in 2011, so far there have been nine fantastic 'picnics in the park' celebrating the delicious fruit and veg that is grown in Reading. All the food is donated by the wonderful growers and allotment holders around Reading, cooked by Reading College students, and served free in Forbury Gardens. The meal is accompanied by music from local bands, family fun activities, plus the chance to learn more about growing your own food, shop with local producers and find out what local community and sustainability groups are doing in Reading.
View the 2021 programme (PDF format).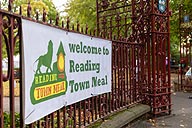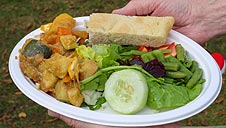 Follow us on Twitter or Facebook. And join our mailing list for the latest news of future events and updates.
See you next time!