Marketplace
We are still taking bookings from local food and drink producers for the marketplace.
As well as established traders, we welcome one-off and cottage industry food stalls. While we must ensure you meet minimum requirements, we will try to work with you to ensure you can participate. Please get in touch if you are interested in having a stall but aren't sure whether you qualify.
Greenbroom Growers Co-operative
We are a low impact agricultural co-operative who grow vegetables, including unusual and perennial crops, using organic and permaculture methods which naturally build soil fertility. Crops are cultivated by hand without the use of fossil fuels, herbicidies, pesticides, fungicides or artificial fertilisers, and all deliveries are made by bicycle.
http://www.greenbroom.co.uk
La Petite Bouche Bakery

We sell a range of homemade pick and mix cakes-bite sized bakes from which people can choose a selection of their favorites (or go all out and have one of each!). We always have gluten free, dairy free, and vegan options so there's something for everyone.
https://rosiebakes.wixsite.com/lapbbakery
Linda Carter Jams
Linda will be back with her jams, jellies and chutneys.
Nomad Bakery
We are an independent bakery and cafe with an obsession for artisan methods and sourdough. Enjoy hand-crafted natural leavened bread, pastries, home-made eats, allergy friendly and vegan treats.
https://www.nomadbakery.co.uk
Reading College

Sponsors of the Town Meal and chef extraordinaires, Reading College have a stall showing the various exciting projects they have for the new academic year.
http://www.reading-college.ac.uk/
Thames Valley Wine School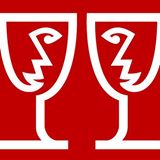 Thames Valley Wine School is an independent wine education company providing tastings and courses across Reading, Windsor and Berkshire.
http://www.thamesvalleywineschool.com
The Grumpy Goat
The Grumpy Goat selects its range of ales and craft beer from small independent craft brewers, many of whom are on the doorstep. Their cheeses are also sourced from small artisan producers who are passionate about creating award winning, handmade cheese.
http://www.thegrumpygoat.co.uk
True Food Community Cooperative

True Food Co-op offers a complete range of general groceries, including organic wholefoods, local fresh fruit and vegetables and environmentally friendly household products, from their large shop in Emmer Green.
http://www.truefood.coop