Fun activities for all the family
We are currently planning the activities for this year's Town Meal, but here's a preview of some of the activities and entertainment you'll find in the fun packed Family Activities area at the Town Meal.
Reading Town Meal Great Veg Hunt

During the event children can take part in a Treasure Hunt. Look out for the table in the childrens' activity area to pick up your entry sheet. Many of the stalls will be displaying a letter. All you have to do is find the letter and write it on your sheet. You then need to unscramble the letters to make a sentence. Each completed entry will receive a certificate and a prize.
Create mini scarecrows with Food4families
Pedal-powered entertainment with Campaign for Real Events
Interactive and fun energy demonstrations for children of all ages with the ever popular pedal powered bubble machine plus musical instruments and sound system. Our generators are made from bits of old bicycles, domestic electrical items and cars, showing the value of rubbish as an educational and creative resource.
http://www.crealevents.uk
Cake decorating with Free Cakes for Kids

Free Cakes for Kids connect families who find it difficult to provide a birthday cake for their child with local bakers who enjoy making and decorating cakes. As well as providing free cake decorating for children, we will sell homemade cakes and biscuits to raise money for our organisation.
http://www.freecakesforkidsreading.org
Jade's Rainbow Faces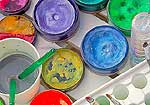 Face painting with Jade
Drum activities with Reading Refuge Support Group
If you would be interested in running an activity at a future Town Meal, please contact us.
Check the activities terms and conditions and risk assessment form.