Reading Town Meal 2020
Celebrating local growers of Reading from the comfort of your home
Thank you for supporting the Reading Town Meal 2020 on Saturday 3rd October. While we couldn't all be together in Forbury Gardens this year to celebrate the town's locally grown fresh produce, we hope that you enjoyed our live radio broadcast: listen again. A big thank you to Napthali, Elaine and the RG2 Radio team for being our amazing radio hosts for the day.
Our online workshops were also a huge success with thanks to Reading Friends of the Earth, Reading Climate Action Network, University of Reading, Global Justice Reading and Compassion in World Farming.
Did you try any of our delicious recipe suggestions? A massive thank you to Reading College catering students for their food creations. And lastly, our gratitude goes out to every household, local grower and volunteer that supported the town meal this year. Without your engagement, enthusiasm and donations this year's socially distanced town meal would not have been possible.
Hope to see you all next year in person!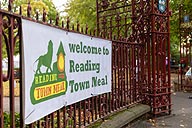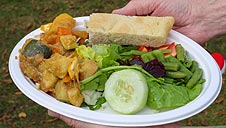 Follow us on Twitter or Facebook. And join our mailing list for the latest news and updates.